These days you'll find me contributing my impressions and thoughts on The Dance Enthusiast as Me(lanie) G(reene). Same voice, different medium!
See below to whet your appetite!
Ann Liv Young 
Meredith Monk & Anne Waldman 
yMusic with Dianne McIntyre 
together + separately with 

Neil Greenberg, Yvonne Meier & Jennifer Monson

 

afroFUTUREqu##r curated by Thomas F. DeFrantz and niv Acosta

 

Patrica Hoffbauer's "Dances for Intimate Spaces and Friendly People

 

CRAWL: Chapter 4
Impressions of Ann Liv Young's Elektra | February 15, 2016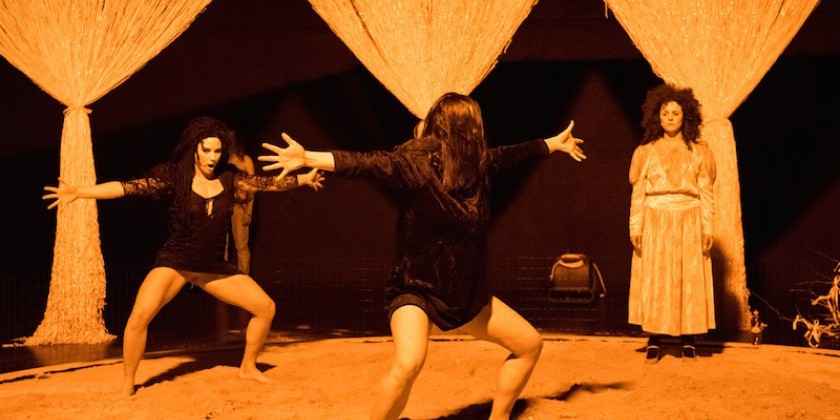 Much of the press about Ann Liv Young speaks of her occasional racist rants, use of porn and defecation on stage, and radical ban from MoMA PS1. It would come as no surprise then to walk into her premiere ofElektra in full mental and physical armor. Young's Elektra is a loose re-telling of the Greek tragedyElectra, a tale of a woman who plots revenge against her mother and stepfather for the death of her father.

 
Act I begins with three women standing inside a sand-filled ring. Deep amber lights saturate the stage flattening their forms like paper doll cutouts. A miniature pig explores the boundaries of the ring, piercing the silence with oinks and squeals, while Marissa Mickelberg and Charley Parden silently stand along the periphery...

 [

MORE HERE]
Photo: Ian Douglas
Impressions of Meredith Monk & Ann Waldman | January 11, 2016
Blend the artistic prowess of composer, choreographer, singer, filmmaker, and installation artist Meredith Monk with poet, performer, editor, educator, and cultural activist Anne Waldman. Add a dash of 50 plus years of performance experience. Now, you have a rare treat that offers a delectable arrangement of language, sound, and motion to whet the appetite of any dance (or art) devotee.

 
The evening begins with a husky, disembodied voice rhythmically stringing together indecipherable phrases as a waterfall projection cascades against the St. Marks Church sanctuary backdrop... [MORE HERE]
Photo: Ian Douglas/Courtesy Danspace Project
Impressions of yMusic with Dianne McIntyre | December 19, 2016
Have you ever taken a moment to notice how musicians can dance? Bodies and instruments flow in and out of sync, sculpting a unique language that informs and inspires one another to create a compelling duet of orchestrated sound. On Saturday, the virtuosic melodies of yMusic — instrumentalists overlapping the worlds of classic and pop — filled New York Live Arts. On December 10th and 12th, during the last piece composed by Marcos Balter, choreographer and performer Dianne McIntyre accompanied yMusic with a solo, while December 9th and 11th featured a solo by choreographer and performer Bill T. Jones.
The sextet enters the stage to generous applause and situates themselves comfortably in an open semicircle of chairs that faces the audience. Music floats instantly from the string trio, flute, clarinet, and trumpet, weaving in and out of sustained notes and syncopated vibrations. The musicians' bodies move with their rhythms. Feet tap, heads nod, elbows jerk, and torsos sway... [MORE HERE]
Photo: Ian Douglas
Impressions of "together + separately with 
Neil Greenberg, Yvonne Meier & Jennifer Monson
" | November 23, 2015
They say history never repeats itself, but similar images do find ways to cycle across our paths once, twice, maybe three times. Yvonne Meier, Neil Greenberg, and Jennifer Monson are no strangers to sharing space or the stage. Meier and Monson appeared at Movement Research at Judson Church and Danspace Project in 2011, and I'm sure dance archives can take us even farther back.
 together + separately
 combines the experimental forces of three post-modern downtown darlings for an evening of movement construction and contemplation. Befitting the name, they present works separately, as well as one piece together...
[
MORE HERE
]
Photo: Ed Forti
Impressions of afroFUTUREqu##r | October 29, 2015
Oh! What is in a name. Well, if an evening coined "Frigay" is any indication, you're in for a treat.afroFUTUREqu##r, curated by Thomas F. DeFrantz and niv Acosta, encompassed a series of Afro-futuristic performances and talks at JACK in Brooklyn, Thursgay through Sungay. Surrounded by JACK's signature wall-to-wall shiny, crumpled aluminum foil, the atmosphere felt appropriately futuristic and queer.
"Gayniggers From Outer Space" kicks off the evening with a uncomfortable misogynistic approach to intergalactic gayness. This '90s film from Denmark has the stylistic trappings of a poorly dubbed, grainy, snap, crackle, and pop of old film. (SPOILER ALERT! If you're set on seeing this film and prefer the element of surprise, skip to the third paragraph...now) ... 
[MORE HERE]
Impressions of Patrica Hoffbauer's "Dances for Intimate Spaces and Friendly People" |
October 20, 2015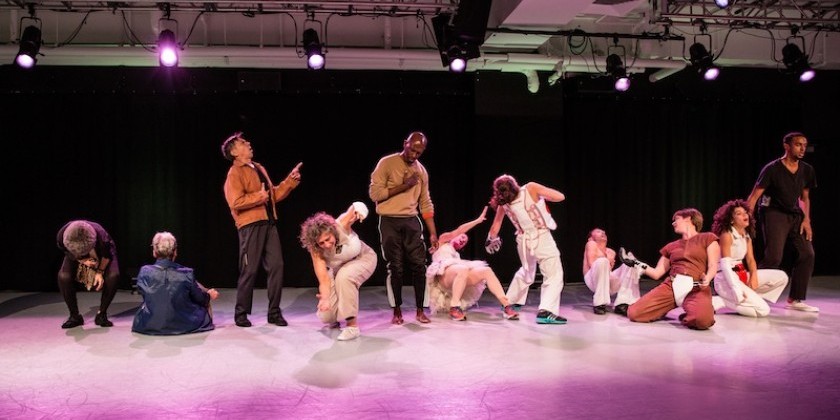 Patrica Hoffbauer's

 
Dances for
Intimate Spaces and Friendly People
 

takes social commentary and wraps it in the weight of political negligence, racial prejudice, and comedic slapstick. Audience members shuffle in and out of four different spaces to witness vignettes that range from nonsensical to poignant. They frame the interworkings of Hoffbauer's mind...[
MORE HERE
]
Photo: Scott Shaw
Impressions of CRAWL: Chapter 4 |

October 9, 2015
Emerging from the L Train onto Morgan Street at night can feel like being dumped inside a warehouse graveyard. While some structures radiate vibrations of commercial or residential occupancy, others feel cold and abandoned. Sporadic construction sites sit behind broken fences, and graffiti murals rest on the side of dilapidated buildings strategically hiding signs of neighborhood wear and tear.
On
September 26th, CRAWL: Chapter 4
, the last in a series of multi-disciplinary, nomadic arts projects, occupied one of these warehouses in Bushwick, Brooklyn. The sounds of Ike and Tina Turner's "Proud Mary" enveloped our bodies at the doorway and soaked into every corner of the space...[
MORE HERE
]
Photo: Chelsea Robin Lee
Scene Lanie Reene